Take a Tour of Our Cozy Rainforest Cabins
Our cottage vibes transition with the seasons. On sunny days, light filters in from all directions, creating an airy comfort. On darker days when the temp is cold, the warm colours, soft textiles, and heat from the corner fireplace feel as though they wrap around you.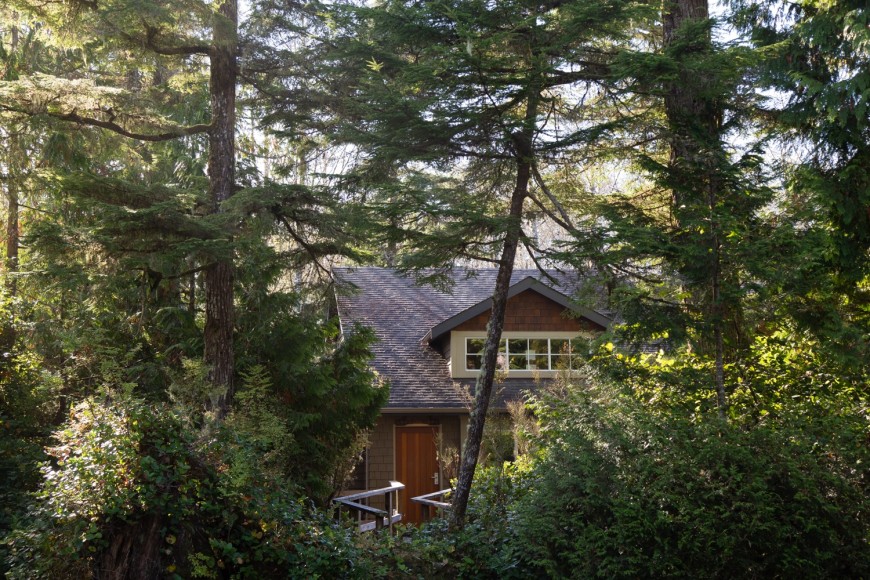 If you've yet to experience a cabin in the woods of Tofino, we welcome you to our photo tour. Just steps from the wild Pacific Ocean and nestled beneath towering trees, each cottage contains modern amenities with a 1000 square feet of rustic energy.
No matter the group size, the cottage feels spacious and private; with a large table for games, plush chairs for lounging with a book, and many rooms to escape the bustle. Our favourite feature is the private, walk-out hot tub from the master bedroom. Your Tofino getaway should feel convenient and comfortable and nothing prompts a deep sleep like a relaxing soak for the muscles after an adventure-filled day in the fresh air.
On the main floor is the luxury master bath with a giant soaker tub, glass-paneled shower, and oversized vanity. Upstairs you'll find a second bedroom and bathroom, providing ample space for guests to spread out and relax.
Although you may want to, there's no need to stay inside. The sound of the waves just a stones throw from the door will lure you to the sandy beach of Cox Bay. Cottage guests also have full access to the Lodge amenities and the Surf Club Adventure Centre that houses our gift shop, rental station, fitness centre, and coffee bar.
We hope you enjoyed our cottage tour and look forward to welcoming you to your home away from home!